I mostly know Raji through his brother Ravi, who has been one of my best friends throughout my life, and who I met in college. That said, I got to know both Raji and Hari (and their mother) over the years, and as anyone who knows the Krishaswamis can tell you, they are a tight clan and and all great people. I think all brothers out there can be envious of the relations they have and have had through their lives and I think that is one of the things that makes Raji's early and unexpected passing the most painful. After graduate school I moved to NYC and Ravi and I became roommates and during this time I got to know Raji better and came to appreciate those qualities that you all know about him. His charm and fun, easy going nature. His enthusiasm for life and laughs and his generosity and his lively jokes and captivating smile. At that time I worked in IT, mostly with Macintosh computers, which was one of Raji's areas of expertise at that time, too, and we got to know each other on a more professional level while I was working at Hearst Magazines and he was working for Apple.
This story is not so much about Raji's character as it is about how Raji got me my job at Imaginary Forces, which was a job I kept for almost 7 years, until I left New York and ended up enjoying very much. I had quit Hearst and was living doing some odd jobs for awhile and mostly helping a friend renovate a house in the Hudson valley and doing some work on our own house in Jersey City. Raji called me up one day and asked if I would be interested in coming in and working with him at Imaginary Forces. At the time, I was really enjoying working with hammers, and not computers so I really did not want the job, but I came if for an interview and said I would be willing to work part time to help out, but I would only want to work Tuesdays, Wednesdays and Thursdays (I liked the sound of that work week!) To my surprise, they said that was ok, so I started work right away. While I was very familiar with all of the Mac and networking and Adobe side of things at IF, I had never worked with video editing and especially a lot of the AV equipment and Decks and Video specific standards, etc that I would need to know for the job, but that sounded interesting to me. On my first day, I came in and Raji said he was going to teach me about the Editing Stations and he said we would take the whole Editing suite apart and rebuild it from scratch to upgrade the machine and also teach me how it all went together. That sounded good so in the morning we dismantled the machine and all the other equipment in the room and then it was time for lunch. Raji jetted out.
Well, turns out that Raji went right out and instead of making it to lunch, he got nailed by a van while riding his bike only a couple blocks away. He was ok, we found out, but he was hurt pretty bad. I don't remember all his injuries exactly, but they had to wire his jaw shut to heal, and he could only eat liquid food. He was in bed and out for the foreseeable future, and so on my first day of the new job, they said, can you fill in for Raji while he is gone and start fulltime tomorrow? I said I guess so, and that is how I got my start at IF!
I remember a week or so later we had a Friday afternoon black out in NYC and I was worried about Raji at home with his mouth wired shut. When we all left work early for lack of power, I walked over to his place on 42nd street (or thereabouts) and walked up like 20 flights of stairs to find that he was gone! I think he had taken off to go see a friend upstate or something–feeling better already! That's Raji for you 😉
I haven't seen Raji for many years now, though I have heard about his whereabouts and kept up a little through Ravi. Still, I cannot believe he is gone. I am so sorry for his family and all his close friends. He was loved by many and we will all miss him.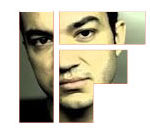 Submitted by John Shanchuk.