When i was 11, i moved to Ardsley, NY. I still clearly remember the day i met you, Raji. On my first day at Ardsley Middle School, I had no idea what to expect in the cafeteria. You found me and took me to where you were sitting with bunch of friends. For a stranger from Tokyo, you were so helpful and friendly. It really helped me a lot, man.
Even though you and me were over 40 years old, we hung out together in Tokyo. You invited me over to your house and we played Nintendo until midnight and talked about the old days. it was like good old days.
I still haven't accepted what's going on.
Read my message i sent, man.
Anyway, I'm glad that I've met you in my life.
Thanks for everything, Raji.
I miss you.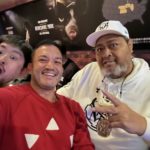 Submitted by Yusuke.