He has been a great help to me in my work as well as in my personal life.
Especially this year, I was able to see two baseball games with him, and I was able to introduce him to my family.
I am sure that I will be able to go to Meiji Jingu Stadium again with Raji-san to watch baseball games in the future, so let's continue to support the Swallows together.
Please take a good rest.
I am lucky to have met you, Raji-san.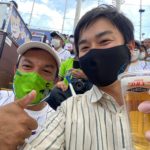 Submitted by Dai Kamakura.