"Rajar Rajar Rajar"…
Missing the laugh of yours when I call you "Rajar".
You were the most honest person I've ever met.
I always wondered how you could have such a big and warm heart. I'm glad that I've met you in my life. Thank you to Kana-chan ne! We miss you Rajar!! You silly!!!!!!!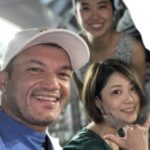 Submitted by Toshimi.