Our hearts are saddened by your loss.
Whenever I remember you, you are always smiling. Yes, even now and forever.
The great work you did here ensures we will never forgot.
Your response was quickly and we could communicate closely.
You always cared about and kind to us, didn't you?
When we worked late, you brought us donuts and coffee.
When we were out, you took us to good restaurants.
We sincerely appreciate your cooperation and kindness for everything.
May you rest in peace.
Nahoko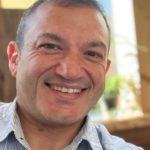 Submitted by Nahoko Shiina.