(In March 2018, Ale and I saw Raji in Japan. I exchanged emails with him the months before, planning and also just getting giddy with anticipations. I was reading those emails, and found this.)
– Don't exchange cash – use your ATM card in the 7-11 Bank at the airport, or any 7-11, Family Mart or about half the conbini chains now have ATMs with JP-Post ATMs in them, or any post office to pull cash and you get the interbank rate
– If asked, tell cashier to charge you in YEN rather than DOLLARS because their exchange rates are always bad
– Exchange your JR Rail pass at the JR office at airport, take the Narita Express for free –
– Don't know what hotel you're staying at, but there may be a bus stop that is closer than the Narita Express stops – ask at the Friendly Limousine Bus counter (orange sign)
– Ideally, buy a 2GB or 3GB Data SIM Card for your SIM-free mobile and TURN OFF cellular data and roaming on your cellphones – it's expensive – cost is $30 for 2 or 3GB good for 3-6months
– For a short stay, rent a WIFI HOTSPOT at the airport – for ¥880 yen a day – once you have it,
– Buy a ¥1000 NTT phone card to be able to use the payphones – that's the cheapest way to call locally
– Install the following APPS:
Android: Japan Trains, LINE, JR East, Tokyo Subway/Tokyo Metrop, IMI, oanda currency convertor, Google Maps, JapanTaxi
IOS: LINE, JR, Midori, Google Translate, Tokyo Subway/Tokyo Metro, oanda currency convertor, Google Maps, JapanTaxi
Inside Google Translate, download Japanese Offline Language Pack for livecam translation of Kanji
Sign up for a LINE account – my screenname is  raji_k (most japanese either use LINE or FB for messenging)
DON'T EVEN THINK ABOUT TAKING A TAXI FROM THE AIRPORT
1. skip the fish market, they've roped off the whole ugly scene because of too many problems with drunk foreign tourists
2. a good day trip in Tokyo is to do Asakusa (old templs), Akihabara (electronics and pop idol/maid district) and the Tokyo skytree (370m high observation tower,) as they're all int he same area –
3. Climbing Fuji is an early morning or overnight endeavor – really what you do is go to somewhere which has a good view – the best view is the lake side vs. Yamanashi
4. Sunday all the touristy stuff can mobbed, I would get all your shopping done that day – clothes can be tough for sizing for some foreigners, Shinjuku branches usually have XL and above. Japanese branches of GU, Uniqlo and Muji are all far more reasonable than any other country branches.
5. Maximum discounting – carry your passport when shopping – most tax-free laws have been relaxed, and the Japanese government will be raising the consumption tax soon – You get no tax above ¥5000 purchasing on clothes and ¥10,800 on Electronics and other goods – that's 8% off, and at Yodabashi Camera, use a Visa Gold or UnionPay and you get another 5% off for a total of 13% off on electronics purchasing, making it about equal to Amazon Japan or other online shopping
Also, AFAIK it's above those amounts in one _day_ so you can parlay the tax-off to other purchasing once you've reached the mimimum.
Timing your trip –
Sumo tournaments are on the odd months of the year
Tokyo weather basical resembles that of DC-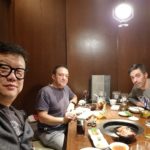 Submitted by linus lam.